Posted on июля 3, 2009
Filed Under BI, Forrester | Комментариев нет
Достаточно интересно сравнить Enterprise Database Management Systems, Q2 2009 с Отчет Forrester о платформах для корпоративных хранилищ данных за Q1 2009: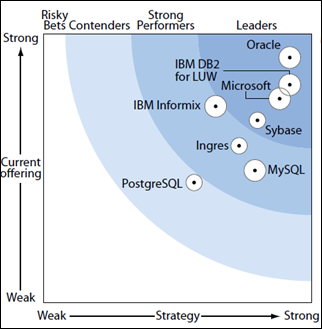 Вот что пишут про MS:
Microsoft: The most aggressive DBMS vendor with a strong road map. Microsoft has done reasonably well in the database business but over the past three years has shown increasing focus and commitment to going after the enterprise market. SQL Server 2005 and, more recently, SQL Server 2008 have enabled Microsoft to take market share in moderately sized to large enterprises, delivering good performance, scalability, security, and availability functionality. Five years ago, hardly any enterprises ran multiterabyte databases with SQL Server to support critical applications. Today, hundreds of enterprises are running 10-terabyte and larger transactional SQL Server databases.
Suitability: SQL Server is known for its easy-to-use, simplified enterprise DBMS and for delivering the best price-performance for most business applications. Many enterprises like the breadth and depth of the packaged applications SQL Server supports across various industries. In addition, SQL Server 2008 offers strong support for unstructured and semistructured data. Enterprises that want a cost-effective and easy-to-use enterprise DBMS should look at SQL Server.
Issues: Although SQL Server lags in distributed caching and scale-out architectures, Microsoft is adding such features in future releases. For example, "Velocity" is a distributed caching technology that supports high-volume transactions.
PS: Сначала думал перевести на русский, но потом передумал
« go back
—
keep looking »